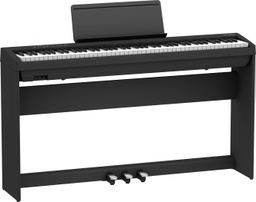 Ensemble Piano Numérique Roland FP-30X Noir
1 395,00

 $
1 395,00

 $
1 395,00

 $
Lorsque la qualité est importante mais que le budget est limité, le FP-30X constitue le modèle idéal dans la gamme FP-X Roland. Réussissant le fragile équilibre entre prix réduit et performances supérieures, ce piano portable fin et stylé se place au-dessus du FP-10 d'entrée de gamme grâce à un générateur de son amélioré, des haut-parleurs plus puissants et une polyphonie supérieure. Intégrant la technologie SuperNATURAL Piano Roland et le même clavier 88 notes PHA-4 Standard que le FP-60X, le FP-30X est un instrument domestique idéal pour les pianistes chevronnés. Et grâce à son poids plume et sa connectivité Bluetooth pour les cours et le jeu sur de la musique, il constitue le choix idéal des pianistes de tout niveau qui souhaitent travailler l'instrument ou jouer dans de petites salles.

SOUND GENERATOR
Piano Sound
Piano Sound: SuperNATURAL Piano
Max. Polyphony
256
Tones
Piano: 12 tones
E.Piano: 20 tones
Other: 24 tones
KEYBOARD
Keyboard
88 keys (PHA-4 Standard Keyboard: with Escapement and Ivory Feel)
SPEAKER SYSTEM
Speakers
12 cm x 2
Rated Power Output
11 W x 2
BLUETOOTH
Audio
Bluetooth Ver 3.0 (Supports SCMS-T content protection)
MIDI
Bluetooth Ver 4.0
COMPATIBLE ANDROID / IOS APPS (ROLAND)
Compatible Android / iOS Apps (Roland)
Piano Every Day
Piano Designer
DATA PLAYBACK
Playable Software
Standard MIDI Files (Format 0, 1)
Audio File (WAV: 44.1 kHz, 16-bit linear format, MP3: 44.1 kHz, 64 kbps - 320 kbps, requires USB flash drive)
RECORDER
Recordable Software
Standard MIDI Files (Format 0, 3 parts, Approx. 70,000 notes memory)
Internal Songs
30 Songs
TUNING, VOICING
Touch Sensitivity
Key Touch: 5 types, fixed touch
Master Tuning
415.3--466.2 Hz (adjustable in increments of 0.1 Hz)
Effects
Ambience
Only for organ tones:
Rotary Speaker Effect
Only for E.Piano tones:
Modulation Speed
CONVENIENT FUNCTIONS
Convenient Functions
Metronome (adjustable Tempo/Beat/Volume/Tone)
Transpose (Keyboard/Song: in semitones)
Dual
Split (split point adjustable)
Twin Piano
Auto Off
OTHER
Connectors
DC In jack
Pedal1 (Damper) jacks (capable of continuous detection when optional pedal connected)
Pedal2 (Damper, Sostenuto, Soft) jacks (capable when dedicated pedal board connected)
Output (L/Mono, R) jacks: 1/4-inch phone type
USB Computer port: USB B type
USB Memory port: USB A type
Phones jack x 2: Stereo miniature phone type, Stereo 1/4-inch phone type
Power Supply
AC adaptor
Power Consumption
16W (When using the included AC adaptor)
*Approximate power consumption when playing the piano at medium volume: 4W
Power consumption when sound has not been played after power-on: 3W
ACCESSORIES
Accessories
Owner's Manual
Leaflet "USING THE UNIT SAFELY"
AC adaptor
Power cord
Music rest
Pedal switch (DP-2)
OPTION (SOLD SEPARATELY)
Option (sold separately)
Dedicated stand: KSC-70
Dedicated pedal board: KPD-70
Keyboard stand: KS-10Z, KS-12, KS-20X
Damper pedal: DP series
Carrying Bag: CB-88RL, CB-76R
Headphones
SIZE & WEIGHT
Dimensions
Detached music rest:
1,300 (W) x 284 (D) x 151 (H) mm
51-3/16 (W) x 11-3/16 (D) x 6 (H) inches

FP-30X with KSC-70 and music rest and dedicated stand:
1,300 (W) x 344 (D) x 931 (H) mm
51-3/16 (W) x 13-9/16 (D) x 36-11/16 (H) inches
Weight
14.8 kg, 32 lbs 11 oz (FP-30X with music rest)
23.0 kg, 50 lbs 12 oz (FP-30X with KSC-70, KPD-70, and music rest)
Accessoires pour produits
Ceci est un aperçu des produits récemment consultés par l'utilisateur.
Une fois que l'utilisateur a vu au moins un produit, cet extrait sera visible.
Derniers produits consultés