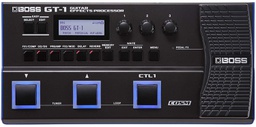 Pédale Multi-Effets Boss Guitar Effects Processor GT-1
299,99

 $
299,99

 $
299,99

 $
Facilement transportable et facile d'utilisation, le GT-1 vous procure des sons d'excellence où que vous vous produisiez. Boosté par le processeur GT de BOSS, il vous donne accès à une large sélection d'amplis et d'effets de renommée mondiale pour tous les styles de musique. Une interface épurée permet une création sonore rapide et intuitive, tandis que le contrôleur assignable et la pédale d'expression vous permettent l'ajustement d'effets dynamiques en temps réel. En vous connectant au site BOSS Tone Central, vous pouvez télécharger des patches professionnels gratuits et des logiciels d'édition. Adapté aussi bien aux débutants qu'aux professionnels débordés et aux musiciens nomades, le GT-1 propose des sons de qualité premium dans un boîtier compact et robuste.

Sampling Frequency
44.1 kHz
AD Conversion
24 bits + AF method
* AF method (Adaptive Focus method) is a proprietary method from Roland & BOSS that vastly improves the signal-to-noise (SN) ratio of the AD and DA converters.
DA Conversion
24 bits
Effects
108 types
Patches
99 (User) + 99 (Preset)
Phrase Loop
32 sec
Nominal Input Level
INPUT: -10 dBu, AUX IN: -20 dBu
Maximum Input Level
INPUT: +7 dBu, AUX IN: 0 dBu
Input Impedance
INPUT: 1 M ohm, AUX IN: 27 k ohms
Nominal Output Level
OUTPUT (L/MONO, R): -10 dBu, PHONES: -10 dBu
Output Impedance
OUTPUT (L/MONO, R): 1 k ohm, PHONES: 44 ohms
Recommended Load Impedance
OUTPUT (L/MONO, R): 10 k ohms or greater, PHONES: 44 ohms or greater
Controls
DOWN switch, UP switch CTL1 switch
EASY SELECT button, EASY EDIT button, FX1/COMP button, OD/DS button, PREAMP button, FX2/MOD button, DELAY button, REVERB button, MEMORY EDIT button, EXIT button, ENTER button, MENU button
1 knob, 2 knob, 3 knob
Expression pedal
Display
Graphic LCD (132 x 32 dots, backlit LCD)
Connectors
INPUT jack, OUTPUT (L/MONO, R) jacks: 1/4-inch phone type
CTL2, 3/EXP2 jack: 1/4-inch TRS phone type
AUX IN jack: Stereo miniature phone type
PHONES jack: Stereo miniature phone type
USB COMPUTER port: USB type B
DC IN jack
Power Supply
Alkaline battery (AA, LR6) x 4, AC adaptor (sold separately)
Current Draw
200 mA
Expected battery life under continuous use
Alkaline: Approx. 7 hours
* These figures will vary depending on the actual conditions of use.
Accessories
Owner's manual
Leaflet "USING THE UNIT SAFELY"
Alkaline battery (AA, LR6) x 4
Options (sold separately)
AC adaptor: PSA series
Footswitch: FS-5U, FS-5L, FS-6, FS-7
Expression Pedal: FV-500L, FV-500H, Roland EV-5
SIZE AND WEIGHT
Width
305 mm
12-1/16 inches
Depth
152 mm
6 inches
Height
56 mm
2-1/4 inches
Maximum height
74 mm
2-15/16 inches
Weight (including battery)
1.3 kg
2 lbs 14 oz
Accessoires pour produits
Ceci est un aperçu des produits récemment consultés par l'utilisateur.
Une fois que l'utilisateur a vu au moins un produit, cet extrait sera visible.
Derniers produits consultés